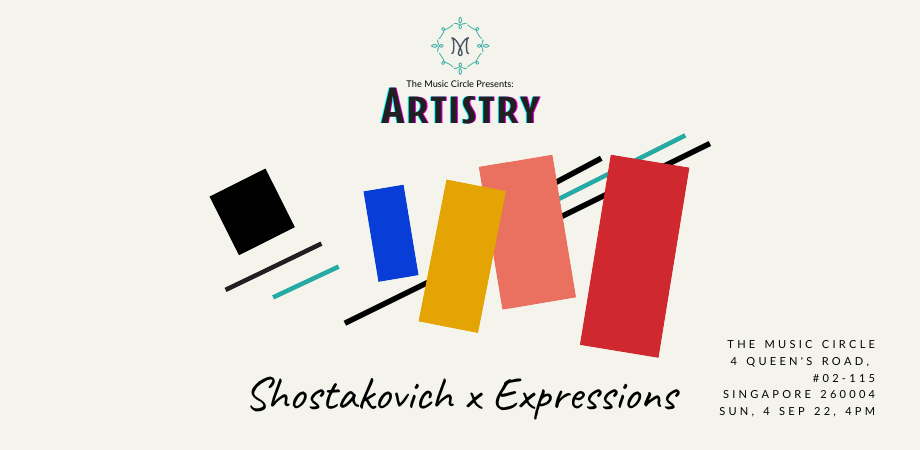 Date: Sunday, 4 Sep 22
Time: 4 - 5 pm
Venue: The Music Circle, 4 Queen's Road, #02-115, Singapore 260004
Artists: Clarissa Lim (violin), Tang Tee Tong (violin), Christoven Tan (viola) and Leslie Tan (cello)
Hosts: Caerissa Tung, Moegi Amano
Get your tickets now!
Russian composer Dmitri Shostakovich is one of the most important composers of the 20th Century whose music continues to capture the imagination today.
As an artist who lived through the Russian Revolution, Stalin's brutal Soviet regime and the Second World War, he created music in an environment of great turmoil and fear. 
While he achieved great fame early on and was celebrated for his symphonic works, he had to tread a fine line between the politics of his time and authenticity of his voice.
Shostakovich seemed to find an outlet for creative freedom in chamber music, and his quartets in particular are considered to epitomise the composer's private voice, rich in meaning and subtle in construction. 
This Artistry presentation is hosted by TMC educators Caerissa Tung and Moegi Amano, and features Clarissa Lim (violin), Tang Tee Tong (violin), Christoven Tan (viola) and Leslie Tan (cello) as they explore the the varied emotions and expressions of Shostakovich in his Quartet No.1, as well as brief pieces Elegy & Polka.
As part of The Music Circle's quest to build a community of music lovers, Artistry is a series of musical explorations featuring guest artists who are passionate about helping people to see or hear music, and the instruments that create music, in different ways. The activities take place in a casual setting as TMC invites artist and audience to be inspired and refreshed by the shared musical experience.
Artistry would not be possible without the generous support of all artists involved.