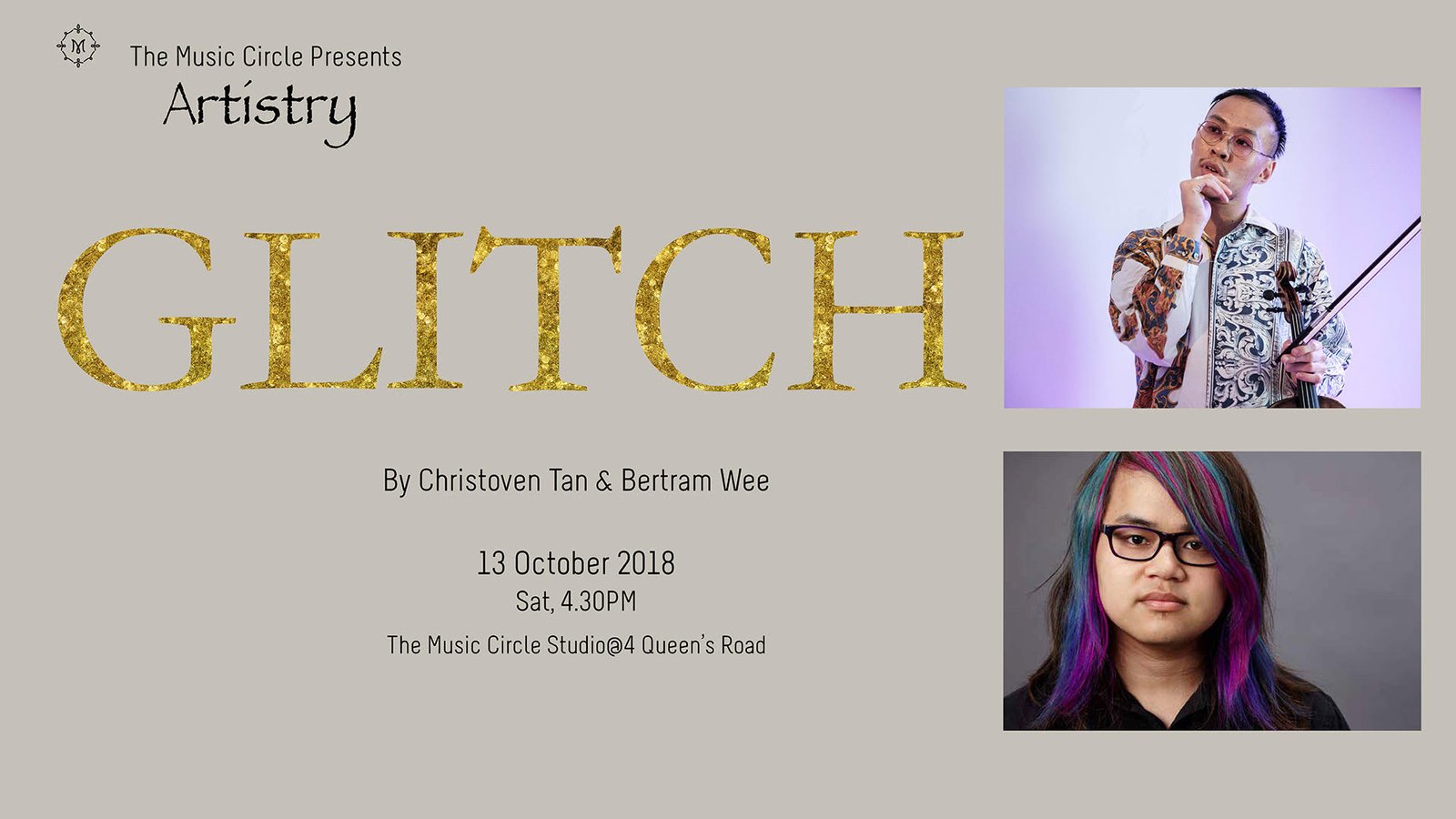 Date: Saturday, 13 October 2018
Time: 4.30 - 5.15pm
Venue: The Music Circle, 4 Queen's Road, #02-115, Singapore 260004
Artists: Christoven Tan (Viola) and Bertram Wee (Toy Piano)
Glitch!
by Christoven Tan and Bertram Wee
Glitch is an exploration of new music along with out-of-this-world notation!
What happens when the lines on the page start to have a life of their own? Expect to hear voices, tinkles on the toy piano, creative strummings that bewilder, and futuristic sound effects akin to a sci-fi movie!
This is set to be an electrifying chase of the imagination from start to finish.
As part of The Music Circle's quest to build a community of music lovers, Artistry is a series of musical explorations featuring guest artists who are passionate about helping people to see or hear music, and the instruments that create music, in different ways. The activities take place in a casual setting as TMC invites artist and audience to be inspired and refreshed by the shared musical experience.
Viola- Christoven Tan
Singaporean violist, Christoven Tan, is a contemporary music artist with a passion for constant redefinition of viola performance and the artist, himself. Christoven relies heavily on engaging contemporary practice and methodologies in western classical music of today and is constantly looking to program new works or ideas. He actively performs in solos, ensembles, orchestras in public and commercial galleries and artist-run spaces in London, Lithuania, Kuala Lumpur, Macau, Spain and Singapore. Christoven has commissioned works from composers Siting Jiang, Goh Toh Chai, Alicia Joyce de Silva and Kelly Tang. Christoven can be heard on BBC radio 3 in the recording of Hymnen II by Stockhousen with the London Sinfonietta. It is his focus to make new works of the viola relevant, played to the widest range of audience.
Christoven Tan is a graduate from the Royal Academy of Music and the Nanyang Academy of Fine Arts. His principal teachers included Garth Knox, Mgr. Jiri Heger, Michelle Li Min Zhe and Volker Hartung, Jon Thorne and Paul Silverthorne. Christoven is a recipient of the Trailblazer Foundation.
Christoven will be serving Artist Residency at the Perth Institute of Contemporary Arts November til 2019!
Toy Piano – Bertram Wee
Bertram Wee (b. 1992) is a composer-pianist with a confessional spirit: he writes music that aims not only to convey deeply personal aspects of his experience but to transcend this by creating musical environments that allow listeners to confront and examine their own. He has written several award- winning works, and his music has been performed at festivals and events as varied and prestigious as the Darmstadt Festival and the BBC Proms. He studied with eminent composers Kenneth Hesketh and Dai Fujikura at the Royal College of Music, London.
Bertram is also active as a pianist for new-music projects, most notably with the award-winning B-L Piano Duo. Winners of the prestigious Royal Over-Seas League Competition (Ensemble Category) in London, they have worked with living legends as diverse as David Lang and Michael Finnissy on their music. Furthermore, they have also been privileged to give the premieres of several new works written for them. Recent projects have included among other things, a performance of Boulez's monumental sur Incises, as well as a recital of theatrical contemporary piano duos at London's Bloomsbury Festival.