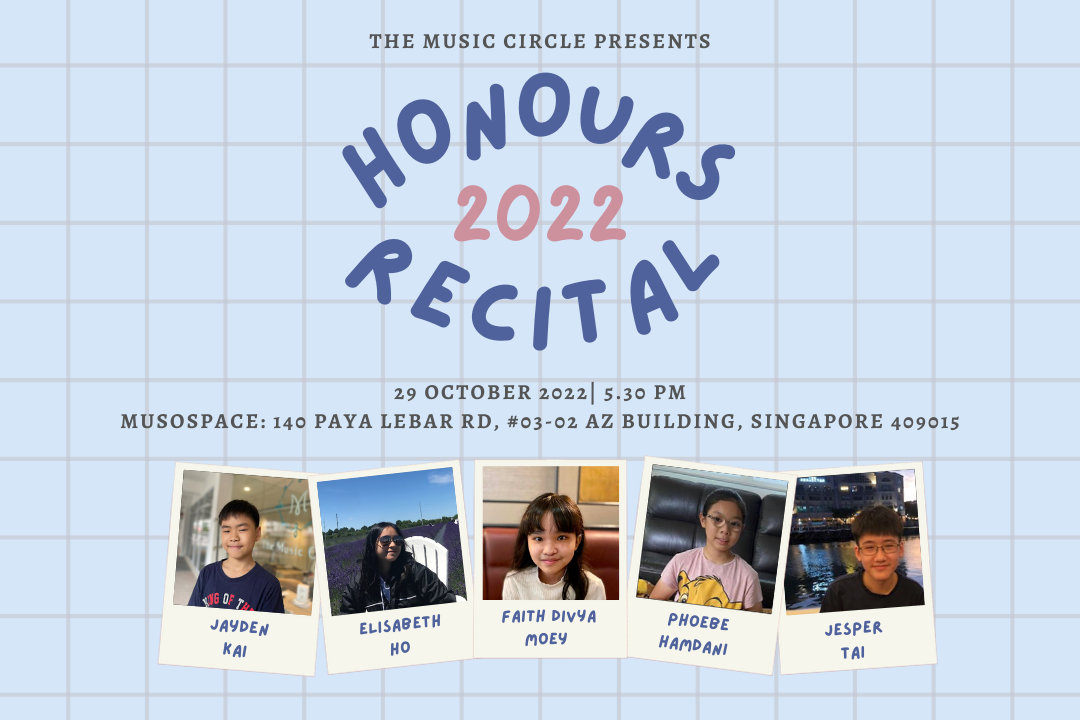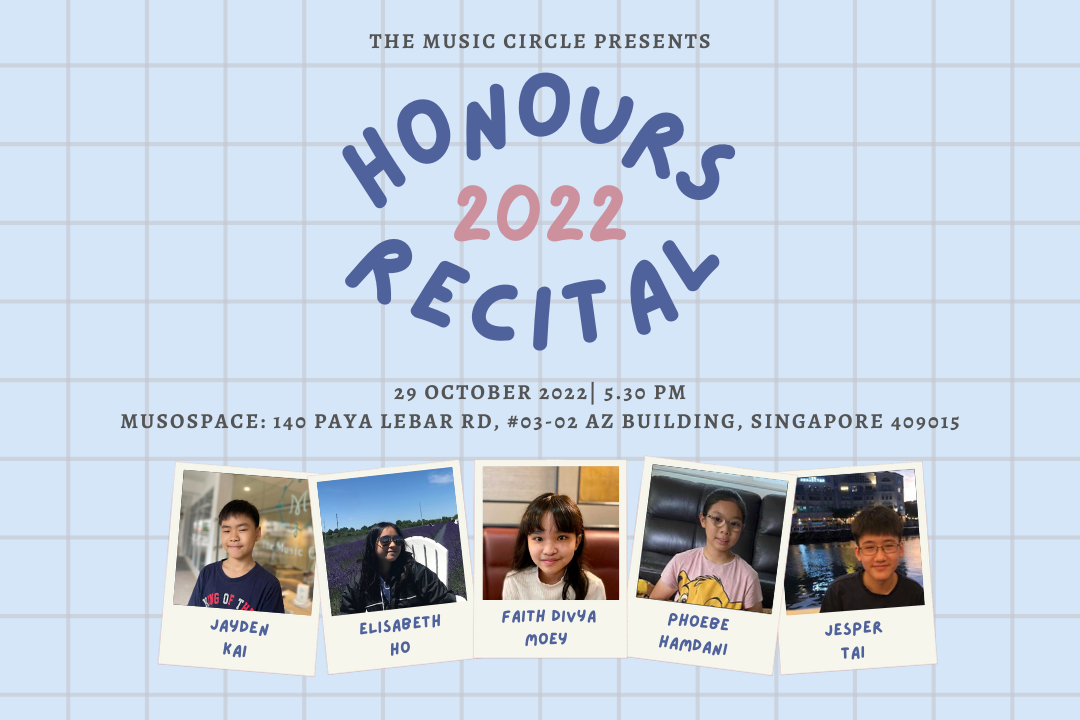 Date: Saturday, 29 October 2022
Time: 5.30-7pm
Venue: MusoSpace, 140 Paya Lebar Rd,
#03-02 AZ Building,
Singapore 409015
Performers (violin): Elisabeth Ho, Faith Divya Moey, Jayden Kai, Jesper Tai, Phoebe Hamdani
Collaborative pianists: Cherie Khor, Chio Jia Le, Fu Jinxia, Jamie Koh
Get your tickets now!
The Music Circle's Honours Programme students will perform their second recital of the year.  They will be looking to showcase the pieces they have been working on in the first concert organised outside of TMC since 2019!
Programme
Czardas  /  V. Monti
Mélodie from Orfeo ed Euridice  /  Gluck arr. Kreisler
Schön Rosmarin  /  F. Kreisler
It Ain't Necessarily So  /  Gershwin arr. Gout
Berceuse from Dolly Suite, Op.56**  /  G. Fauré
Jayden Kai – violin, Chio Jia Le and Jamie Koh**, piano
Chaconne in G minor  /  T.A. Vitali
Banjo and Fiddle  /  W. Kroll
Légende, Op.17  /  H. Wieniawski
Elisabeth Ho – violin, Cherie Khor – piano
Violin Concerto in E Minor, Op.7  /  O. Rieding
Sonatina in G major, Op.100  /  A. Dvořák
I.    Allegro risoluto
IV. Allegro
Faith Divya-Moey – violin, Lauren Fu Jinxia – piano*
Violin Concerto in E major, BWV 1042  /  J.S. Bach
I.  Allegro
It Ain't Necessarily So from Porgy & Bess  /  Gershwin arr. Heifetz
Sonata for Violin and Piano No.8, Op.30 No.3  /  L.V. Beethoven
III.  Allegro Vivace
Vidui: No. 1 from Baal Shem (Three Pictures of Chassidic Life)  /  E. Bloch
Jesper Tai – violin, Chio Jia Le – piano
Allegro Brilliante, Op.19  /  William Ten Have
6 Roumanian Folk Dances for violin & piano  /  B. Bartók
Phoebe Hamdani – violin, Chio Jia Le – piano
*TMC Faculty 
About TMC Honours Programme
The Honours Programme is part of The Music Circle's Instrumental Academy, for students who demonstrate high ability and aspiration to flourish. Students are selected based on their level of musicianship, but more importantly, the commitment they have shown in growing musically and holistically.