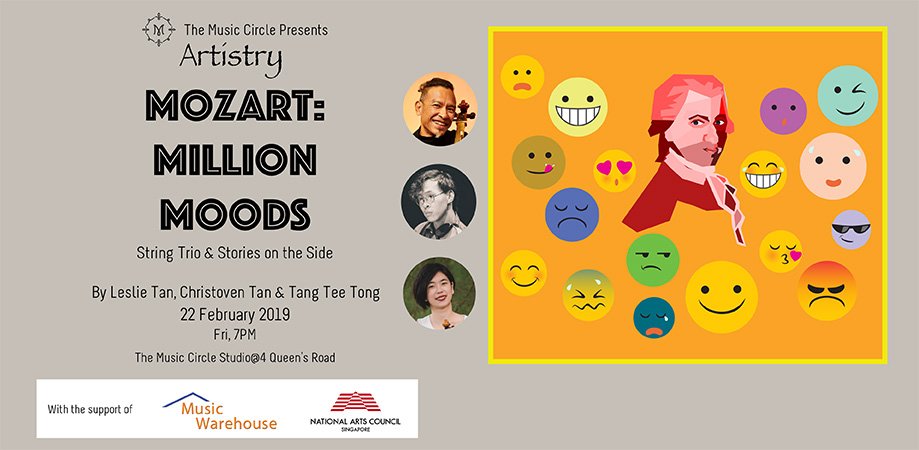 Date: Friday, 22 February 2019
Time: 7 - 8pm
Venue: The Music Circle, 4 Queen's Road, #02-115, Singapore 260004
Artists: Tang Tee Tong (Violin), Christoven Tan (Viola) and Leslie Tan (Cello)
Leslie Tan (cello), Christoven Tan (viola) and Tang Tee Tong (violin) take audiences on a musical exploration of emotions that can be experienced in music, through the performance of Mozart's warm-hearted composition, Divertimento for string trio.
Divertimento in E-flat major, K. 563 is Mozart's only finished work for string trio consisting of six movements. Respected musicologist Alfred Einstein lauded it as "a true chamber-music work … (that) grew to such large proportions only because it was intended to offer . . . something special in the way of art, invention, and good spirits. . . . Each instrument is primus inter pares (equal in importance), every note is significant, every note is a contribution to spiritual and sensuous fulfillment in sound."
In Mozart: Million Moods, the musicians take on the role of listening guides, narrating between movements, as they look to convey the myriad moods that Mozart weaved into the work. Experience the mastery of this legendary composer as The Music Circle's Artistry series takes you on an interactive classical ride.
As part of The Music Circle's quest to build a community of music lovers, Artistry is a series of musical explorations featuring guest artists who are passionate about helping people to see or hear music, and the instruments that create music, in different ways. The activities take place in a casual setting as TMC invites artist and audience to be inspired and refreshed by the shared musical experience.
Artistry would not be possible without the generous support of all artists involved, and the National Arts Council.