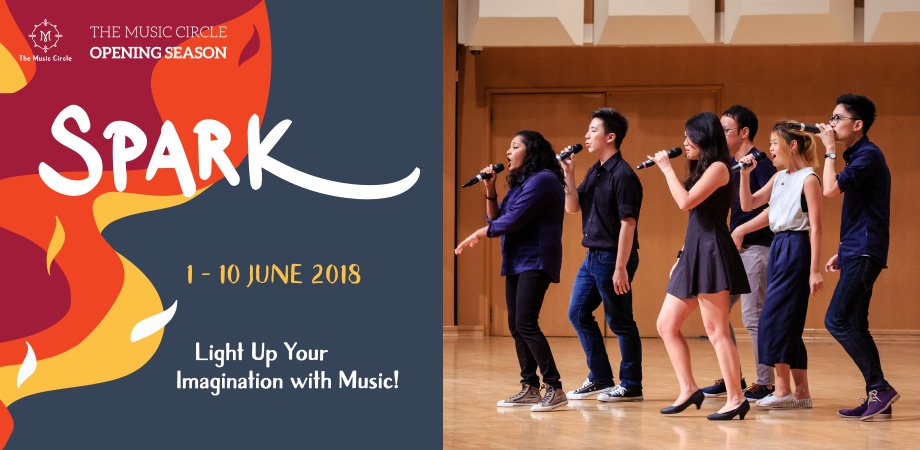 Date: Sunday, June 3rd 2018
Time: 2:45 PM - 3:15 PM
Performers: The Usuals
Acappella group The Usuals will captivate children with their vocal magic, performing songs from musicals and favourite animated movies.
This concert is part of SPARK, a season of performances and activities presented by The Music Circle in conjunction with the opening of our new music school. SPARK celebrates creativity and inspiration, from music masters who have left their mark for generations, to the artistes around us today who light up our lives with their work.
To find out more about other activities in SPARK, visit http://tmcspark.peatix.com
The Usuals are an up-and-coming a cappella group based in Singapore made up of six friends who love making music together. Having sung together in the same collegiate a cappella group, they decided to form their own group upon graduating. In Sep 2016, The Usuals took part in the AKA VIII: Asia-Pacific A Cappella Championship League 2016 during which their vocal percussionist, Amos Ghui, won the award for Best Vocal Percussion. Since then, they have been focusing on expanding their reach and presence by experimenting with different styles and uploading regular a cappella song covers on social media platforms such as Facebook and YouTube. Members of The Usuals have won various a cappella awards between them at the collegiate level. These include the First Prize at the National A Cappella Championships, the top position at the Gwangju A Cappella Festival as well as the Gold Award at the Taiwan International Vocal Festival.