Shaping Complete Lives with Music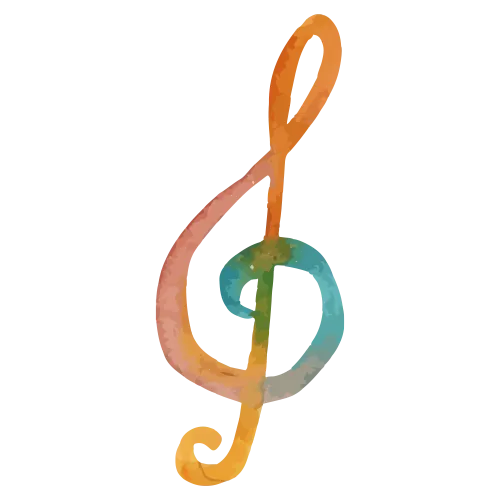 We believe that music has the power to shape more complete lives by cultivating creativity, enhancing cognitive abilities, and promoting emotional well-being.
Music education can help students develop a range of skills that are beneficial in all aspects of life, including critical thinking, creativity, and teamwork. In addition, music education can contribute to character building by fostering confidence, self-esteem, a sense of achievement, resilience, and discipline through practicing and performing.
Building a Community of Music Lovers
The Music Circle has been building a community of music lovers, comprising the team, students, families as well as artists. Community events and programmes are organised for students to enhance their musical education and promote a lifelong appreciation for the arts.
The Music Circle Method ©
Our educators utilise The Music Circle Method, a modern musical curriculum developed by Artistic Director Dr. Tang Tee Tong alongside our curriculum team. The method aims to develop students holistically, underpinned by a musical progression that parallels the learning of a language.
Musical progression
The musical progression (ESIC) – Experience, Sing/Say, Identify, Create/Perform parallels the learning of language.
Mixed-modalities learning
The development of visual, aural, and kinesthetic skills is crucial for nurturing well-rounded musicians.
Our unique curriculum with learning pedagogies
The Music Circle Method utilises a variety of proven musical learning pedagogies
including Gordon's Music Learning Theory, Kodaly, Dalcroze, Alexander Technique, Paul Rolland, and Suzuki.
Pedagogical experience of our team
Pedagogical Experience of TMC Artistic Director Dr. Tang Tee Tong and our senior pedagogues.
The Music Circle Method
The Music Circle Method
The Music Circle Method
The Music Circle Method
The Music Circle Method
The Music Circle Method
The Music Circle Method
The Music Circle Method
The Music Circle Method
The Music Circle Method
Togetherness
We believe the whole is greater than the sum of its parts. Learning and working together as a team makes for a far more enriching experience for everyone who participates in this circle.
Thirst for Knowledge
We value knowledge and want to propagate this thirst for learning with others.
Generosity in Sharing
There is openness in the way we collaborate as a team. We work together to share our knowledge, but also to learn from others.
Inventiveness
We find new ways to teach and learn. We are always interested in new ideas and using technology to make the learning experience better and more effective.
Respect
We are enriched by the diversity of views that enable us to improve and innovate. We value everyone's ideas and respect each other's points of view.
Meet The Team
Here to help your kids develop a strong foundation for a lifetime of musical learning!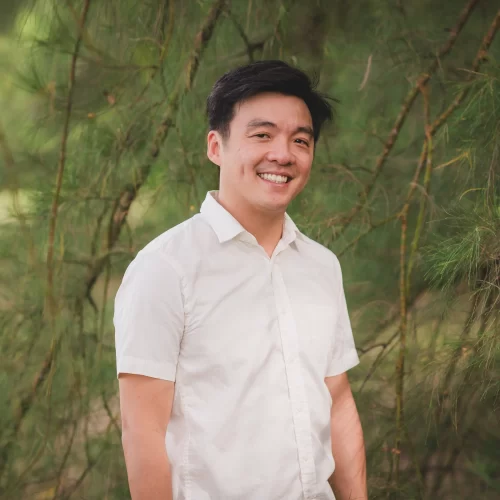 Clarence is a music entrepreneur driven by his passion to make a positive impact on music in Singapore. As Head of Music Programming at Esplanade-Theatres on the Bay till 2015, he helped to define the national arts centre's musical heart for 8 years. He worked with his team of Programmers to provide a range of music experiences for Singapore audiences, from the Mosaic Music Festival and Baybeats to daily free performances at the Esplanade. Working with talents from around the world inspired him to play a part in developing Singaporean musicians, and he has set out to draw on his arts management experience towards this goal.
Clarence started The Music Circle with like-minded music educators to introduce innovative approaches to music education. He works with the teaching team to create a warm and nurturing learning environment, so that every TMC student can truly enjoy a lifelong journey with music. He also co-founded Foundation Music LLP with fellow music industry colleagues to help propel exceptional Singapore talents to the international stage, and develop viable careers for them.
Dr. Tang Tee Tong, Artistic Director of TMC, is a devoted violin pedagogue with more than ten years of teaching experience. Dr. Tee recently graduated with a Doctoral of Music Arts degree in Violin Performance and was named the Outstanding Graduate of Herberger Institute of Design and the Arts at Arizona State University. Her violin pedagogy and teaching philosophy has been highly influenced by her wonderful teachers and mentors, Dr. Jonathan Swartz, Prof Andres Cardenes, Dr. Margaret Schmidt, Dr. Lina Bahn, Foo Say Ming, Leslie Tan and Lim Soon Lee. She has also learnt from music educators such as Mimi Zweig, Brenda Brenner, Sherry Sinift and Rebecca Henry from the Violin Teacher's Retreat at Indiana University and Paul Rolland String Pedagogy Conference. Tee has also received Suzuki teacher training with Mr William Starr, former President of Suzuki Association of Americas.
Tee's teaching approach is also shaped by her teaching experiences as well as in-depth exploration of other pedagogy and music education methods. Recognizing that every student blossoms in a unique way and possesses distinct learning styles, interests and strengths, Tee organized her pedagogy into a doctoral research paper "Violin Curriculum Incorporating Visual, Aural and Kinesthetic Perceptual Learning Modalities" which she has been adapted for her teaching in Singapore. Tee believes that weaker modalities in students cannot be neglected and needs to be strengthened through modality strengths to prevent a child's violin learning from stagnating in future.
As a music educator, Tee seeks to work with her students and their parents to create a musical environment for her students that encourage the lifelong love of music.
She believes that music education helps build character, elevate self-esteem and confidence, as well as cultivates discipline and eagerness for excellence.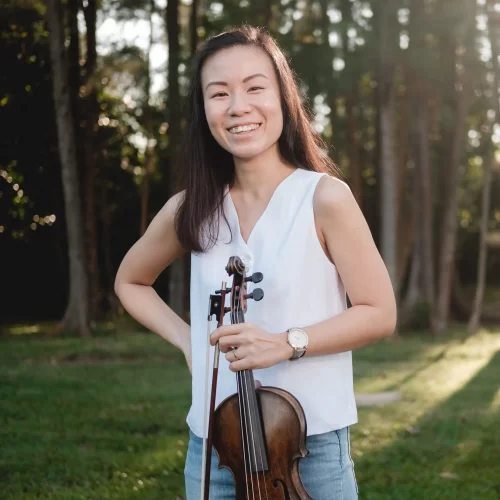 Clarissa graduated with a Second Upper Bachelor of Music Degree from the Royal Academy of Music, and is also an alumnus of the Wells Cathedral School, a specialist music school in Somerset, England. During her time in London, Clarissa studied with Sophie Langdon, Gabrielle Painter and Leland Chen. Previous teachers include Catherine Lord and Lynette Lim. She has played in various chamber groups, such as a clarinet quintet, quartets and duos, and is currently part of The Tee Trio. The trio has performed across England as Young Artists and noteworthy performances include, the prestigious St James Piccadilly Church (London), as well as a music series in Wolfson College, Cambridge. They have also been awarded prestigious scholarships to study with Thomas Ades in the International Musicians' Seminar Prussia Cove 2018 and The Cadenza Music Course 2018. The Tee Trio has also performed a series of concerts in Singapore, including at the national arts centre Esplanade – Theatres on the Bay in August 2019.
Clarissa has also played with orchestras in both London and Singapore. To name a few are
The London Mahler Orchestra, Arch Sinfonia, Young Musicians' Symphony Orchestra, ADDO Orchestra and The Young Musicians' Foundation Orchestra. She has been honoured to have worked under the tutelage of Semyon Bychkov, Ed Gardner, Sir Mark Elder, Christopher Adey, Christopher Warren-Green and the late Oliver Knussen.
Currently pursuing her teaching Licentiate of the Royal Academy of Music, Clarissa enjoys teaching and sharing her passion and knowledge of music with others. She believes that everyone should experience music at some point of their lives and that it is a great benefit to the mind and soul. She also has a strong interest in interdisciplinary art and is working with Lumia researcher, Trent Kim, to create audio/visual virtual reality works.
Besides all things music and violin related, Clarissa is also passionate about baking, cooking, handicrafts and bird keeping. She spends her days off reading and knitting, as well as bonding with her budgie. Her dream is to eventually retire on a ranch.
Lynn is an ardent music educator whose passion for teaching has driven her to attain a Bachelor's Degree in Music Education and accumulate nearly six years of teaching experience.
As an alto saxophonist, Lynn brings a different dimension of musical knowledge and spirit to her role as an Early Childhood Music Specialist at The Music Circle.
With her enthusiasm and commitment, Lynn is ready to guide the next generation of music enthusiasts on their exciting journey!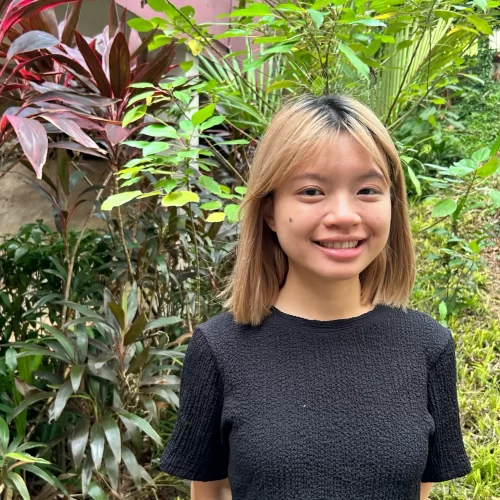 Yi-an has a diverse background as a pianist with experience both as a soloist and chamber musician. She completed her Bachelor of Music Degree at the University of Taipei and has an extensive performance history in Taiwan. Additionally, the Ministry of Foreign Affairs appointed her to perform internationally in Germany and Japan.
As a dedicated music educator, Yi-an has had experience working with students of all ages and abilities. Her affable nature makes her a welcoming and approachable presence for students, and she looks forward to making a positive impact no her students as she imparts her musical knowledge and expertise.
Regina embarked on her lifelong journey with the violin at the age of 8 through the Suzuki Music Association of Indonesia. She has performed a diverse repertoire at events and concerts, including the inaugural concert of the Jakarta International Theatre in 2019.
Regina recently graduated with a Diploma in Music (with Distinction) from the Nanyang Academy of Fine Arts, and is currently pursuing her Bachelor of Music degree at NAFA in collaboration with the Royal College of Music.
Regina's commitment to continuous learning is evident in her participation in music education workshops and research projects. She has completed the Suzuki Method teacher training and received recognition for her essay titled 'South-American Influences in Milhaud's Le Bœuf sur le toit and Saudades do Brasil,' earning the NAFA Best History Essay Award in 2023.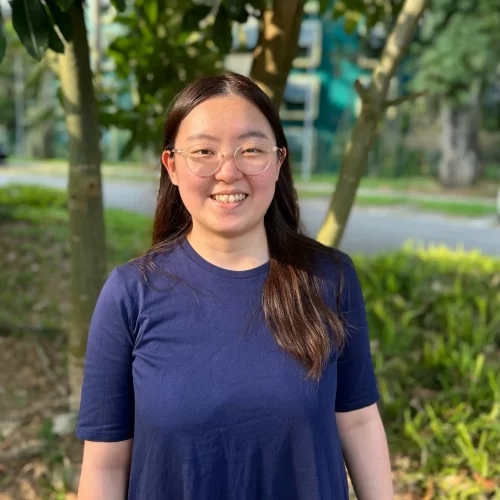 Freda has been playing the violin since she was 7 years old. Having attained her Diploma in Music Teaching from Nanyang Academy of Fine Art (NAFA) in 2023, she is currently pursuing a Bachelor's degree in Education in Instrumental and Vocal Teaching under the Royal College of Music-NAFA programme.
Freda believes in the importance of understanding music education and pedagogy, and strives to improve her musicianship skills as well as working with other music educators to deliver effective music lessons for learners.
Freda is also passionate about singing and has been an active member of school chorales. During her free time, Freda enjoys going for long walks, listening to different genres of music, and watching movies.
Yong Xin is a dedicated music educator whose love for music spurred her to earn a Bachelor of Music (Honors) from the Royal Northern College of Music in Manchester, England. Her music journey has been enriched through the guidance of accomplished mentors, including Richard Ormrod, Ms. Soon Liok Kee, Mr. Timothy Ku, and Ms. Catherine Tjia. She is also thankful for the guidance from Jean-Efflam Bavouzet, Kathryn Stott, Jeremy Young, Qian Wu and Phillip Fowke.
Furthering her commitment to education, Yong Xin shared her expertise as a music tutor at the Raffles Institution, Music Olympias Foundation and St Thomas C E Primary School.
Yong Xin's dedication to her art was recognised through awards and distinctions, including being a finalist in esteemed competitions like the Sir John Barbirolli Competition for Cello and Piano, and as a recipient of the Alexander Young Competition for Voice and Piano.
Yong Xin enjoys performing and sharing the beauty of classical music to a broader audience, and aspires to continue kindling the flames of musical passion within students, and to make a positive impact on the future of music education.
Moegi Amano graduated with a Master of Music in Piano Performance from the University of Texas at Austin under the tutelage of Anton Nel.
During her studies, she discovered the love of teaching the next generation of musicians. She served as one of the teachers of the Piano Project at UT Austin where she taught private piano lessons to young children. Her interest in piano pedagogy led her to write the article, "Where to Begin," published in the 2021 autumn edition of the Piano Magazine, which explores the process of teaching a new piece.
As a performer, Moegi has received high ratings in music festivals, been selected as a finalist in the Ars Nova International Piano Competition, and won first prize in the Nilsson Piano Competition. She also enjoys collaborating with others. In addition to regularly accompanying instrumentalists and singers, she participates in many chamber groups. A highlight of her career includes being the pianist for Asian Memory Project, a project that focuses on sharing Asian culture and heritage through multimedia concerts.
Are you a music educator who:
Enjoys working working closely with others
Wants to be part of a dynamic team
We're seeking talented individuals with a passion for music to help us continue building our learning community. Established in 2015, we have been growing our range of programmes, and need exceptional musical minds to help us reach new heights.
We offer a range of career opportunities, including full-time, part-time, and freelance positions, designed to accommodate a variety of professional goals and lifestyles. If you're passionate about music education, we'd definitely love to hear from you!
The Music Circle (TMC) was formed to build a community of music lovers. We are proud of our spaces which are simple but thoughtfully designed with music making in mind. We would love to share them with musicians who are looking for rehearsal and performance venues.
The following TMC venues are available for rental subject to availability.
As musicians and performers ourselves, we understand the difficulty in finding appropriate and affordable rehearsal venues, and would love to support arts groups as much as we can! Drop us an email at hello@themusiccircle.com.sg​.
The Studio
This studio room is used for early childhood music and movement classes, instrumental group classes, ensemble rehearsals, masterclasses and workshops.
Piano Studio
This room doubles as a stage for used for performances and also houses our Yamaha C1 Baby Grand Piano, conducive for piano lessons.
Strings Studio
A room dedicated to violin lessons. Full sized mirrors and acoustics designed to maintain the brightness of the instrument, while ensuring clarity of sound.
TMC Recital Space
Our Piano Academy, TMC Studio and Living area combine to create a performance space suitable for recitals, masterclasses and events.
TMC Studio + Piano Stage
Our Piano Academy and TMC Studio can be combined for workshops and rehearsals with larger capacity requirements.
TMC Community Cafe
A communal space where students, parents and teachers can interact over refreshments, and have access to TMC's library of music resources and books.